Hello music friends!
It has been quite some time since our last blog post and there is lots to tell you. We are well into the 17/18 season and look forward to connecting with many of you at some of our concerts this season. Please sign up to get our newsletter to find out where, when and what we are performing this season. (see on right to sign up).  Before we get too far into the season though, we would like to catch you up on a few exciting projects, collaborations and concerts we had throughout last spring and summer.
Spring 2017 Douro Musical Cruise with CBC host, Julie Nesrallah

We spent a fantastic couple of weeks  playing concerts with soprano, Julie Nesrallah aboard a ship where we cruised  the scenic and beautiful Douro river in Portugal. We ended up in Madrid where we played a concerto for piano four hands by Kozeluch with the Orquesta Clásica Santa Cecilia.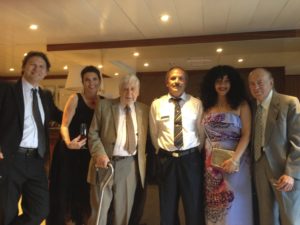 Here we are with George Zukerman, the ship's captain, Julie and violinist, Jack Glatzer
Summer festivals in France and Macedonia
We were invited by the Zodiac Trio to their summer festival, which is held in Valdeblore (near Nice) France. What a fabulous time we had meeting old and new friends and what a perfect setting for a summer music festival. It was magical!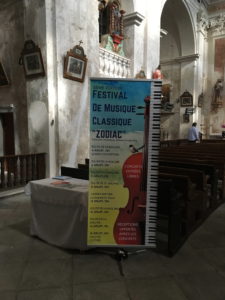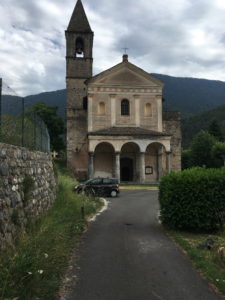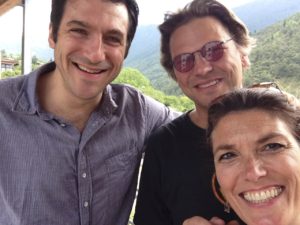 With cellist, Arie Barnes
We then went on to the Ohrid Summer Music Festival in Macedonia and were very honored to be a part of this long-standing event. The location is also spectacular (on Lake Ohrid) and the atmosphere was especially unique with all the frescoes in the St. Sophia Church where we performed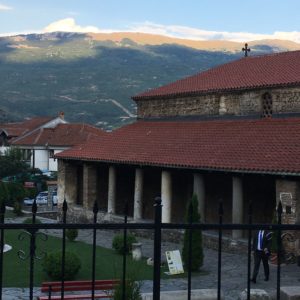 !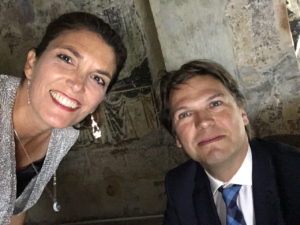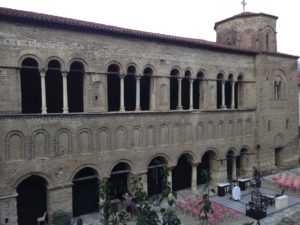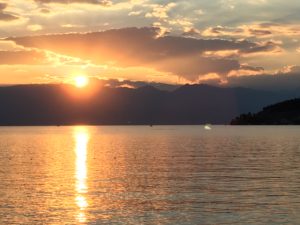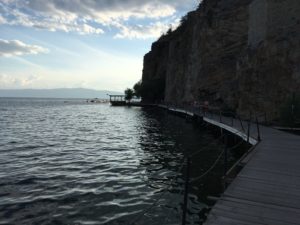 Sept 2017- World premiere of Marcel's Concerto for piano four hands and orchestra
We were very excited about the first performance of Marcel's new concerto for piano four hands , which we performed on Sept 22 at the opening concert of White Rock Concerts and very enthusiastically received by the audience. It was written in celebration of Canada's 150th birthday and commissioned by White Rock Concerts. The work reflects some typical Canadian sounds, images and scenery. Here are Marcel's notes on the work :
Wanderlust is about the wanderer/hiker – as an individual or group – embarking on an adventure with nature and its wonders. The joyous anticipation is followed by various ups-and-downs, in the literal, as well as the symbolic sense. It is not unlike my own life's journey that eventually brought me from Germany to Canada. In this particular contest – and as a homage to my heritage – I made use of some musical references to Schubert that I considered suitable.
Flow is about nature itself – water, fluidity, in various forms and manifestations…including the stillness in its frozen, icy state that shapes so much of the Canadian landscape.
The Last Spike refers to an important historical event that eventually completed the railway across Canada, thus being a symbol of national unity. Even today, the train whistles resonating in the mountains convey some of the magic and excitement that this once-new form of transportation evoked. Motion, generated by steam and steel, translates into the patterns of the concluding movement.
Click here to view a short excerpt: https://vimeo.com/239272875